The Mass of Thanksgiving and Feast of Blessed James Alberione
Provincia Filippine - Australia - Saipan - Taiwan
Inserita il: 11/12/2020
1 commentario(i) ...
in Our Lady Queen of Peace Parish, Payneham, South Australia
T
he year 2020 has been a most challenging, painful and demanding year worldwide. Due to the Corona virus pandemic the life of people everywhere has been turned upside down. Many have become unemployed losing their means of livelihood; the need for isolation has affected the mental health of many and saddest of all, so many have died alone, as their loved ones were not able to be by their side.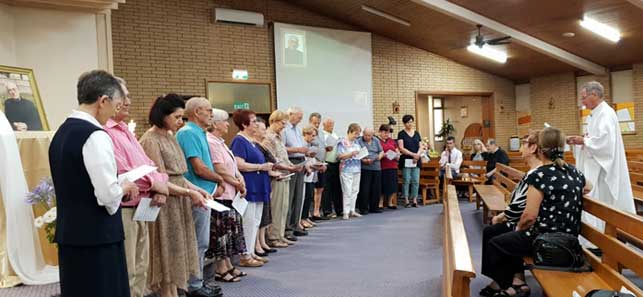 E
arly in November, here in Adelaide we had a second wave of the virus and were asked to go into total lockdown. Consequently, the planning liturgical group thought we would have to cancel the Mass of Thanksgiving which is an annual event in appreciation to all the Groups in the parish who so generously contribute to the life and the pastoral care of the parish community. Fortunately, five days prior to the set date, the lockdown was eased. We contacted all the Pauline Cooperators and the many parish groups to inform them that the Mass would go ahead on 26th November and that it would coincide with the feast of Blessed James Alberione on the 49th anniversary of his death. There would be no refreshments at the end of the celebration as in previous years.
T
he many Parish groups were all invited to bring gifts for St Vincent De Paul who would make up Christmas hampers for needy families.
O
ur parish priest, Fr Allan, placed the following notice in the parish bulletin and parishioners responded whole heartedly. "Please come and join in expressing thanksgiving for the abundance of blessings for 2020 and for the love and invaluable support given by the Pastorelle Sisters over the past 37years."
A
fter the homily, the various groups brought bags and parcels of food and gifts for the Christmas hampers. And, after Communion the Pauline Cooperators were invited to come forward to renew their promise and receive a special blessing. These gestures strengthen our belief that as baptized, faith-filled people, we are called to reach out to others and be living witnesses to the love and reign of Jesus our Good Shepherd.
T
he celebration was indeed a memorable evening for all, giving thanks for the life of Blessed James Alberione while celebrating our belonging to the parish of Our Lady Queen of Peace that goes beyond the walls of the Church, reaching out to our neighborhood and our world.
Sr Rita Ruzzene and Sr Josie Labata, sjbp
Leggi i commenti
Sr. Lily Ann delos Santos
15/12/2020 | 13:48
We are in communion in thanking and blessing the Lord for having given our Sisters in Adelaide his abundant graces over the years to serve God's flock in their midst with utmost care and creative fidelity against all odds brought by the pandemic. It was the Lord\\\'s work indeed, so he made the way! May the Lord be with you always, Sisters!