Apostleship of the Sea - Stella Maris
Provincia Filippine - Australia - Saipan - Taiwan
Inserita il: 02/10/2020
0 commentario(i) ...
Celebrates 25th National Seafarers' Day
O
n September 27, 2020, the Apostleship of the Sea - Stella Maris in the Philippines celebrates the 25th National Seafarers' Day as per Presidential Proclamation no. 1094 to give due recognition to the vital role played by our Filipino seafarers towards the development of the Philippines as a maritime country. This year's celebration in Manila is a simple one with limited participants due to the Covid-19 pandemic. The first and second part of the celebration was done at the Philippine Coast Guard grounds, Port Area, Manila.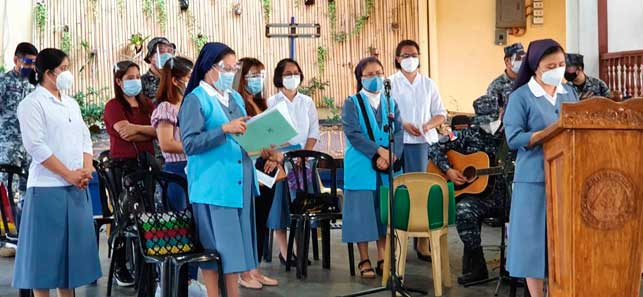 B
eing part of the National Maritime Week, the ceremony started with the Passing of the Torch which symbolizes the turn-over of duties and responsibilities of Maritime Industry Authority (MARINA) to the Philippine Coast Guard (PCG) as the next host of the National Maritime Week Celebration and as partner agency of the Apostleship of the Sea-Stella Maris.
T
his significant occasion was highlighted by the Eucharistic Celebration presided by Fr. Lowie Palines, PCG Chaplain with Fr. Paulo Prigol, CS, Director of AOS-Stella Maris - Manila and the other PCG Chaplains as concelebrants. In the Eucharistic Celebration, the Filipino seafarers are honored and considered part of God's circle of friends who brave danger and suffer loneliness for the sake of their family and our country. Together with the National Seafarers' Day Committee, the Pastorelle Sisters and all those who are involved in the preparation, are thanking the Triune God for the simple yet meaningful celebration and are asking each one to continue to pray for our Filipino seafarers that they be effective ambassadors of our country and faithful messengers of Christ.
T
he last part of the Program was the Ecumenical Memorial Rite which was done onboard Philippine Coast Guard vessels at the Manila Bay. Some family members of the 36 missing Filipino seafarers of MV Gulf Livestock 1 which capsized at Japan waters, were present and were so touched as they heard the tolling of ship's bell followed by the Prayer for the Bereaved, Prayer for the Deceased Seafarers, Blessing and Letting Go of the Wreath, flower offering while a PCG helicopter hovered around and threw petals of red roses to remember and honor the seafarers who perished at sea.
Sr Victoria Sanchez, sjbp