Mission Lunch
Provincia Filippine - Australia - Saipan - Taiwan
Inserita il: 05/03/2020
6 commentario(i) ...
Mission Lunch
at Our Lady Queen of Peace Parish, Payneham,
South Australia, for the Pastorelle Sisters Feeding Mission in the Philippines
T
he small band of Pauline Cooperators and Friends held their first Mission Lunch on Sunday 1st March. A three-course meal was prepared and served to more than 170 people. This event takes place three times a year.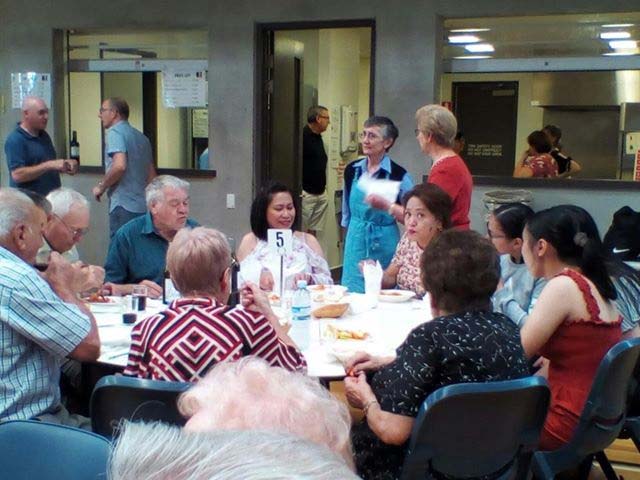 T
he preparation begins a month earlier when tickets and announcements of the coming event are advertised. As the date approaches, besides seeking to sell tickets, members begin to gather gifts for the raffle and to ask for food donations such as pasta from Sanremo Company, cheese from Casa del Formaggio, tomato sauce, fish or chicken, sweets and bread from major food suppliers. Every effort is made to seek discounts. Some of the members are extremely competent at this, a refined skilled acquired over the many years of being involved in this compassionate endeavour.
A
s the preparation day approaches, other parishioners, family members and friends are invited to give a hand with setting up the multipurpose hall and the food to be cooked on the morning of the actual day. If one comes in the hall or kitchen, there lots of work is going on, in the midst of chatter, laughter and sharing of life.
C
ome 1st March, the members of the Mission Group and helpers come right after the 8 o'clock Mass and begin with cooking - this is the time when all hands are on deck and continues until 12.00 noon when the people begin to arrive. This year there were Sr Josie and Sr Rita who welcomed them as they arrived while Lina Pavan indicated their table.
S
oon all are seated including Fr Allan, our parish Priest, who has supported the initiative for many years and is always in charge of calling the winning tickets for the raffle.
B
y 3.30pm all have enjoyed the companionship, the food and some made new friends, delighted to learn something of what the Sisters are doing and to know that this initiative is reaching out and helping needy children through our Feeding Program.
Payneham community
Leggi i commenti
Sr Mary (Australia)
02/05/2020 | 13:47
It's constant love in action to be proclaimed from the rooftops. Thank you our Pauline Cooperators and Friends!
Sr. Lily Ann DC delos Santos
09/03/2020 | 10:38
We thank you, Members of the Mission Group through our Sisters of Payneham, for your enduring generosity and fraternal care for our needy children of the Philippines. Your cheerful countenance speaks louder of the immensity of love from simple hearts by which you've shared yourselves to the least of our brothers and sisters.
sr Giulietta Ciacchini
08/03/2020 | 17:02
Bravissima Suor Rita, e chissà quanto sarà stato buono il pranzo. Saluti a te e sorelle, un abbraccio!
Sr. Doris M. Arcon, sjbp
06/03/2020 | 05:03
We praise God for this noble activity dear Sisters which does not only involve material & financial help from our generous friends and collaborators but also their effort, physical strength to make this event a meaningful one. Congratulations and more meaningful years of loving service to God & His people...
Sr Anna Genovese
05/03/2020 | 16:56
Congratulazioni! Siete meravigliosi!!!! Sempre avanti e sempre meglio! I am very proud of you and remember you always with so much gratitude, love and prayer. Anna
REVELINA SANTIAGO
05/03/2020 | 15:46
Great mission for the poor! This Mission Lunch has been going on for decades of years and these people have been doing this to extend help to our less fortunate brothers and sisters including the Philippines. We thank these people so much for their generosity and love.