Pauline Family Gathering
Provincia Filippine - Australia - Saipan - Taiwan
Inserita il: 28/11/2019
1 commentario(i) ...
S
tir up the gift of God which you have received … this was the theme of the Pauline Family gathering to celebrate the Feast of Blessed Giacomo Alberione, il Primo Maestro, our common Founder. The event was held at Jesus Good Shepherd School in Imus, Cavite last 23 November 2019.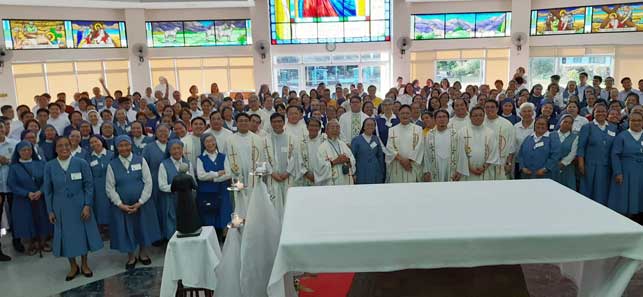 I
t was an occasion to thank the Lord for our Founder, who allowed himself to be used by God, in humility, in docility and in his resolve to do only what the Lord wanted him to do. It was also a venue for us to share and witness the beauty of our consecrated life and our belonging to the Pauline Family. The Eucharistic celebration was presided over by Fr. Albert Garong, one of the youngest ordained priest of the Society of St. Paul.
I
n this occasion, representatives of the Congregations and Institutes of the Pauline Family shared their brief vocational story. There were also some games and presentations of the ten groups in relation with the theme.

W
e are blessed because this celebration coincided with the Canonical visit of our Superior General, Sr Aminta Sarmiento Puentes, sr Lucia Piai and Sr. Marisa Loser, Councilor Generals to our Province Philippine, Australia, Saipan, Taiwan. In this occasion too, our sisters from all these four countries were represented. Indeed the presence of the Pauline Family added joy and meaning to the celebration.
The Sisters of the Provincialate Community
Leggi i commenti
Sr. Estelita (Australia)
28/11/2019 | 11:27
Congratulations to the Pauline Family Philippines for the lovely celebration of the Founder's Day. I am proud to belong to this big family. May the Lord continue to bless each individual congregation and institute through the intercession of Fr. Alberione for the service of the church and God's people.