24th National Seafarers Day Celebration
Provincia Filippine - Australia - Saipan - Taiwan
Inserita il: 09/10/2019
2 commentario(i) ...
T
he Pastorelle Sisters, upon the invitation of the Scalabrinian Fathers are involved in the Apostleship of the Sea since 1984. In collaboration with them, the sisters offer value formation seminar to the students of the different maritime schools, formation to departing seafarers, hospital visits and even in accompanying the seafarers and their families in some legal cases.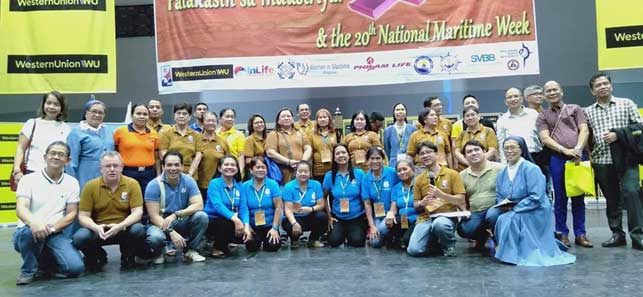 T
his year, the 24th National Seafarers Day was celebrated on September 29, 2019 with the theme, "Marinong Filipino - Kababaihan: Palakasin sa Industriya". The highlights of the celebration are the Ecumenical Memorial Rite at Sea wherein we remembered and prayed for all the deceased seafarers. This was done at the Manila Bay, specifically in the Philippine Coast Guard Port area city of Manila. It was participated by the seafarers and maritime agencies and some family members of the dead seafarers.
T
he Ecumenical service was followed by the Eucharistic Celebration presided by His Eminence Luis Antonio Cardinal Tagle. It was held at the Paco Arena in Manila. It was participated by the seafarers, students from the maritime schools around the Philippines, the maritime agencies and industry and some family members and friends of the seafarers. In his homily, Cardinal Tagle invited the assembly, especially the seafarers "that as they strive to make our lives better, may this not lead them to forgetting our roots, and neglecting those who need our help, especially the poor. In our plight to progress, he stressed that real progress also means progress in sympathizing and helping our fellowmen, being there for them.
Sr. Florentina Bataclan, sjbp
Leggi i commenti
Sr. Ignacia Coching
05/11/2019 | 12:23
Another beautiful and memorable expression of our pastoral vocation in the Apostleship of the Sea ministry. And the celebration is blessed with the presence of Cardinal Tagle. I love His message to progress in sympathizing and helping which is so inspiring. Thank you Sisters!
Sr. Estelita(Australia)
29/10/2019 | 22:21
Dear Sisters: May God continue to bless your most important ministry to the families and especially to mariners, helping them to grow in their Christian attitude through their calling as men working in the sea away from their loved ones most of the time.