Feast of Good Shepherd Sunday Celebration
Provincia Filippine - Australia - Saipan - Taiwan
Inserita il: 22/05/2019
3 commentario(i) ...
M
ay 12 is the Good Shepherd Sunday, a Solemnity of all us Pastorelle. We rejoiced in gratitude to the Lord for the gift of our vocation and for calling us to be workers in His vineyard.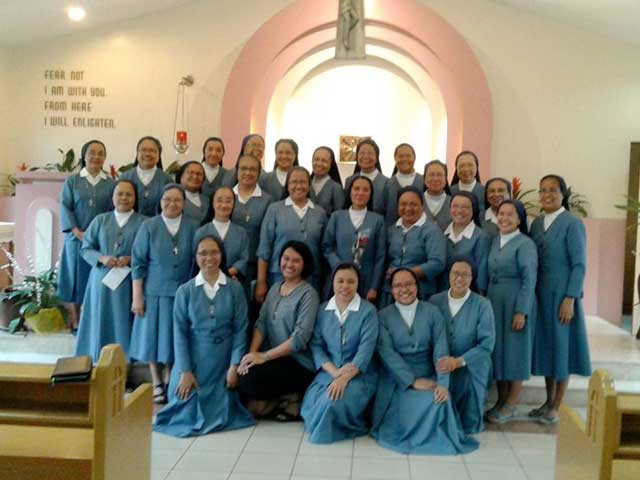 W
e untied ourselves with the Universal Church for the 56th World Day prayer for vocations. We continue to pray to the Lord of the harvest to send good laborers in his vineyard. The work and the harvest is plenty.
A
beautiful occasion for us on this Feast Good Shepherd Sunday is celebration of the 25th Anniversary of religious profession of Sr. Arlita Ballarta. It was held at the Provincial House and the Eucharistic celebration was presided by Most Rev. Honesto Ongtioco, D.D., Bishop of the Diocese of Cubao. Aside from the family of Sr. Arlyn, some members of the Pauline family, some representatives from other religious congregations and friends were around for the occasion. It was simple and joyful celebration to thank the Lord for His fidelity in the life, vocation and mission of Sr. Arlyn.
O
n this same day, in a moment of prayer, we also witnessed the first renewal of vows of Sr. Sheila Mae Estremos. We give thanks and praise to the Lord for his fidelity and for continuing to sustain us in our day to day following of the Good Shepherd.
The Novitiate Community
Leggi i commenti
Sr. Ignacia Coching
30/09/2019 | 09:47
Dear Sr. Arlyn and Sheila, This is a very late written message but still wanting to greet you both on your silver anniversary and renewal of vows a 'Congratulations'! May you continue to love Jesus. My prayers are with you.
Sr Mary
12/06/2019 | 01:05
A time of rejoicing and thanksgiving for the whole Province! Congratulations Sr Arlyn and Sr Sheila!
Sr. Estelita(Australia)
23/05/2019 | 00:13
My prayers for dear Arlyn for your constant fidelity to the Lord in responding to his daily invitation to follow Him. A milestone in your vocation...may you be blessed with many more happy years of being a Pastorella. My joy in your celebration dear sisters, and I am happy to see the other members of the P.Family who came for the Pastorelle celebration. To dear Sheila, I also hold you each day in my prayers. You are a good sister, may you always be inspired each day by the voice of the Good Shepherd.