The Reason for the Union
Provincia Filippine - Australia - Saipan - Taiwan
Inserita il: 02/01/2019
3 commentario(i) ...
T
he Feast of the Holy Innocents marked the opening of the annual assembly of the Philippines-Australia-Saipan-Taiwan Province from December 28 to 31, 2018 at the Pastorelle Sisters' Provincial House. The 54 sisters from the different communities gathered for the opening Eucharistic Celebration presided by Fr. Ronald, OCD. His homily seemed to fit the last phrase of our General Objective "encountering the suffering humanity". He explained God allows us to experience silent and innocent suffering so that we may appreciate the redemptive action of God for us and in us.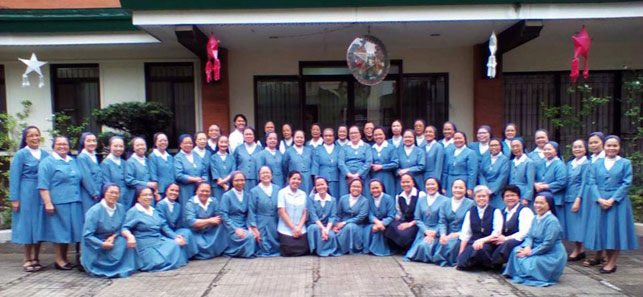 T
he welcome words of Sr. Arsenia to the assembly directed us to reflect on this reality - the greatness of God made man is in his littleness and in his littleness his tenderness shines. Tenderness is basically the characteristic of pastoral motherhood.
D
iscussion on this year's assembly was focused on Formation. In response to the lines of action to continue implementing contents of the General Plan of Formation and Studies topics on the four wheels of the Pauline Spirituality was explored. Sr. Purisima Tañedo shared with us the works of the Founder on the four wheels of the Pauline cart: POVERTY, APOSTOLATE, STUDY AND PIETY. Through reflections and experiences shared in the specific formation groups we understood better the difference between theories and praxis; commitment and living out of the four wheels of the Pauline cart.
A
t the end of the discussion of every Pauline wheel, the hope of giving flesh to the wheel remains to be each one's commitment to live as Pastorella.
T
he concluding Eucharistic Celebration we attended at the National Shrine of Our Lady of Mount Carmel on December 31 sets us to welcome the New Year in the spirit of Fr. Alberione. How?
Be silent: spend moments of silence before the Lord and make oneself attuned to the Spirit;

Breathe: the breath of life in us which is God Himself, and

Speak of good things about others; speak words of mercy, of compassion, and of forgiveness.
T
he day of prayer and reconciliation which also closed the Sisters' annual assembly ended with the prayers for all the Sisters of the congregation, chanting of the Te Deum and big hope to progress a little each day for the glory of God.
Sr. Narcisa Peñaredonda, sjbp
Leggi i commenti
Estelita(Australia)
08/01/2019 | 01:26
Thank God for this graceful moment of having been together. All is grace in the sharing of life.
Sr Mary
05/01/2019 | 05:06
Thank you, Narci, for this comprehensive and inspiring sharing of the Province Assembly. Great photos too! And now, "buon lavoro!"
Hna. Antonia
02/01/2019 | 17:28
Parabéns pelo belo evento. Votos de um abençoado 2019.