Blessing of the Jesus Good Shepherd School
Provincia Filippine - Australia - Saipan - Taiwan
Inserita il: 30/08/2017
2 commentario(i) ...
Senior high school building
August 4, 2017
T
he Sisters of Jesus Good Shepherd "Pastorelle" in the Philippines gratefully and joyfully celebrated a new milestone in the field of education ministry with the blessing of the new Senior High School Building of Jesus Good Shepherd School in Palico 2, City of Imus- Cavite. This blessing signals the formal opening of the Senior High School Level with Gr. 11 for this School Year 2017-2018 and Gr. 12 next school year to complete the K-12 Basic Education Curriculum mandated by the Department of Education. Now JGSS offers complete basic education from Kindergarten to Gr. 12.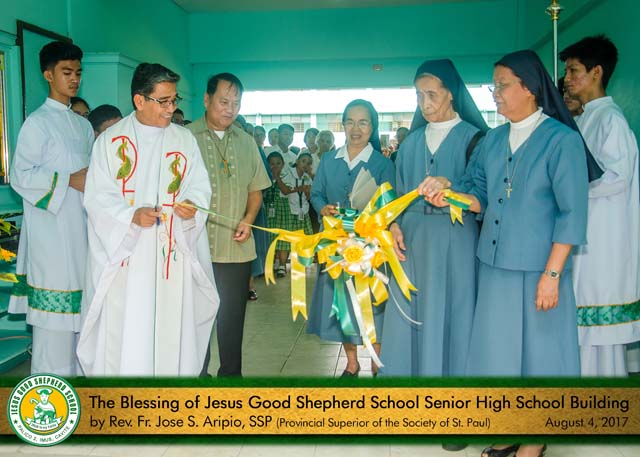 T
he celebration, which coincided with the Feast of St. John Marie Vianney, started with the Thanksgiving Mass officiated by Rev. Fr. Jose S. Aripio, Jr., SSP. Toward the conclusion of the Holy Mass, Sr. Arsenia G. Estrada, SJBP, President of the JGSS Board of Trustees and Provincial Superior of the Pastorelle Sisters, gave her thanksgiving message which highlighted that everything indeed is grace. Furthermore, she said that the new building is here for the total formation of persons and future leaders who will serve the Church and the society according to the spirit of Jesus Good Shepherd.
A
fter the Mass, everyone proceeded to the location of the new building for the prayer and ceremonial cutting of ribbon headed by Sr. Arsenia G. Estrada,SJBP, with Sr. Cristina N. Justo, SJBP, Rev. Fr. Jose S. Aripio, Jr., SSP, and Most Rev. Renato P. Mayugba, D. D., Bishop of Laoag.
A
simple agape prepared for the guests and members of the school community concluded the celebration. Joy and excitement prevailed over those present especially among the students, their parents, and the Grade 11 students who belong to the first batch of the Senior High School Students.
Sr. Ales Paz O. Pamplona, SJBP
Leggi i commenti
Sr. Estelita
31/08/2017 | 02:59
Congratulations dear sisters, you who carry out with commitment the pastoral motherhood to the young children and parents in the school. May you and the staff be continuously blessed by the Good Shepherd in your ministry. The many young people in the photos give a sense of hope in the church. Blessings to all of you.
sr rosanna
30/08/2017 | 16:14
"I thank my God each time I think of you", expecially in this blessing occasion. I am very surprised of seen sr Cristina: the mother foundress of Philipino community in Imus and somewhere else. I pray for each one of you and the future of this important school. Love!