"A celebration of God's love and fidelity..."
Provincia Filippine - Australia - Saipan - Taiwan
Inserita il: 12/10/2021
5 commentario(i) ...
F
ifty years ago in 7 October 1971, Sr. Francisca Felix, Sr. Rosario De Guzman and Sr. Jesusa Villaverde professed to have no other goods, no other treasure and no other love except Jesus Good Shepherd in our Congregation. And Jesus loved them and continues to love them without any condition. We rejoice with them as they proclaimed God's loving fidelity and graciousness toward each of them for the 50 years of Religious Profession as a Pastorelle Sisters.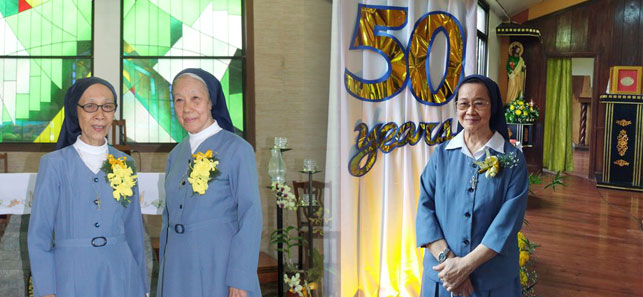 S
r Francisca and Sr Jesusa celebrated their anniversary last 7 October 2021 coinciding with the 83rd Foundation Anniversary of our Congregation. The Eucharistic celebration was presided by Most Rev. Pedro D. Arigo, Bishop Emeritus of the Vicariate of Puerto Princesa with four concelebrating priests and was held at Mary, Mother of the Good Shepherd Chapel in Imus, Cavite. Some members of the Pauline Family, family members of the Jublilarians, teachers and staff of Jesus Good Shepherd School and friends participated at the event.
I
n his homily, Bishop Arigo reflected on the sign of the Religious Life, a living sign of the new and different reality so different from our world. It is about an experience of God's presence in the midst of poverty, mourning, hunger, injustice, lack of forgiveness, absence of peace and filling the world with something new and different: forgiveness, peace and justice. He also added that it is very important in a religious community that the members support one another, bear and uphold each other's shortcomings and live as sisters. By doing this we become a living signs of the active presence of God in the world.
S
r. Rosario celebrated her anniversary last 10 October 2021 at the Seminario de Jesus Nazareno in Borongan, Eastern Samar. The Eucharistic Celebration was presided by Most Rev. Crispin Varquez, Bishop of the Diocese of Borongan with the Priests of the Seminary as concelebrants. The Daughters of St. Paul, an Annunziatina, representatives of other Religious Congregations, friends, teachers and staff of the Seminary were present.
B

ishop Varquez, taking some points on the Sunday Gospel of the encounter of Jesus with the rich young man, expounded on the beauty of choosing a life as a living sacrifice to the Lord, who in his mercy and compassion is never wanting in generosity. He gives us the hundredfold and life eternal! We lack nothing if we have the Lord with us and the best witnessing we can offer to others is the joyful belonging to the Lord in the service of our brothers and sisters.
B
oth celebrations were occasion to thank the Lord for the gift of the Consecrated Life. We praise Him for his fidelity in our Sisters Francis, Sue and Rose. Congratulations, dear Sisters!
Sr Sheila Mae M. Estremos sjbp
Leggi i commenti
Estelita O. Manabo
01/12/2021 | 05:07
For your perseverance in responding to your call as Sisters of Jesus the Good Shepherd, congratulations. What a beautiful offering of your life, of your love and fidelity...may the Lord continue to be your inspiration. I miss and love you all. In Alberione...Estelita
Ir. Daniela Vasconcelos
18/10/2021 | 18:02
Auguri a tutte giubilande. Abraccio a tute.
giulietta
13/10/2021 | 19:01
Auguri carissime sorelle, la gioia di esservi donate a Gesu' Buon Pastore vi accompagni ogni giorno. Un grande abbraccio. Suor Giulietta Ciacchini Comunita' Generalizia.
Revelina B Santiago
13/10/2021 | 17:05
Thanking the Lord with all of you, Srs. Francis, Rose and Sue! Thank you for your great love for the Lord and your continuous offering of life for the people of God. Happy Golden Anniversary! Prayers assured...
Thereza Cortelini (Ir. Adriana)
12/10/2021 | 15:20
Belissimo, tanti auguri.