A celebration on the Feast of Jesus Good Shepherd
Provincia Filippine - Australia - Saipan - Taiwan
Inserita il: 03/05/2021
2 commentario(i) ...
I
t was a joy and indeed a blessing to be able to meet with our Pauline Cooperators-Friends of Jesus Good Shepherd to celebrate our feastday after almost two years of no contact due to the coronavirus pandemic, repeated lockdowns, social distancing and restrictions imposed for the safety of all.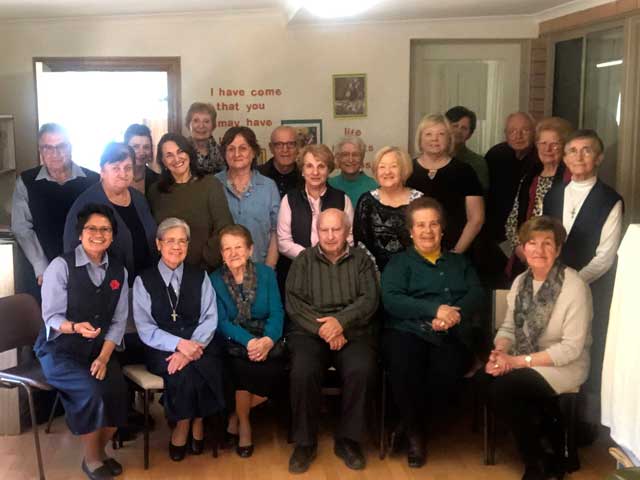 O
n Sunday 25 April, feast of Jesus Good Shepherd and 58th World Day of Prayer for Vocations, our community of Payneham and 22 Cooperators and friends and parish collaborators gathered in our home for prayer, reflection and fellowship. We received several apologies from Cooperators who could not join us.
S
r Josie led the opening prayer and used pictures depicting specific qualities of the Good Shepherd, his tenderness, intimacy and care. Also, how Jesus invites us all to rejoice and give thanks when he brings us back to the fold.
S
r Estelita reflected on the Pauline Cooperators according to the mind of Blessed James Alberione, underlining how he valued and promoted lay cooperators for each Institute in the Pauline Family.
A
s we are in the Year dedicated to St Joseph, Sr Rita presented Pope Francis Apostolic Letter Patris corde ("With a Father's Heart"), focusing on the seven themes that describe him. Saint Joseph as a beloved father, a tender and loving father, an obedient father, an accepting father; a father who is creatively courageous, a working father, a father in the shadows, inviting the whole Church to increase their love for St Joseph, to encourage us to implore his intercession and to imitate St Joseph's virtues and zeal. At the end, people commented on how they appreciated Pope Francis Letter and how they felt St Joseph close to their own struggles in life and grateful for the invitation to seek his intercession and grow in their love and imitation of St Joseph.
O
ur gathering concluded with a delicious afternoon tea with homemade sweets and cakes brought by the participants. Our parish priest, Fr Allan Winter, joined us and took part in the lively sharing that reflected the interest and appreciation of the afternoon by all the participants.
Sr Rita, Sr Estelita, Sr Josie
Leggi i commenti
Sr. Lily Ann delos Santos
04/05/2021 | 05:13
It is loud and clear that the whole Celebration was a joint labor of love of the Community. Congratulations, Sisters! Happy Feastday of the Good Shepherd everyday!
Sr Mary (Australia)
04/05/2021 | 02:56
We are blessed to have such a wonderful group of Cooperators and Friends of Jesus Good Shepherd who share our ministry of pastoral care in the parish with zeal, and generously support our mission overseas, especially in the Philippines.